...takes us back to the Far North
This time we stay a week in Thurso, and take a couple of trips out to Duncansby Head. Famed from the shipping forecasts, this is the far north east corner of the Scottish (and thus the British) mainland. The coastline is characterised by its cliffs, and by the stacks which the sea has carved from the sandstone. The deep inlets in the cliffs are home to massive numbers of sea birds, as are the stacks.
And the "stars" hereabouts are the puffins.
Conversation between passing strangers along the cliff-top paths concerns not the geological spleandour of the stacks - nor the diversity of the ornothology thereabouts. Instead it consists largely of variants on the Q&A: "have you seen any puffins?" and "there's puffins over there, and there, and there; or there were yesterday/ last week/ whenever..."

Here's one: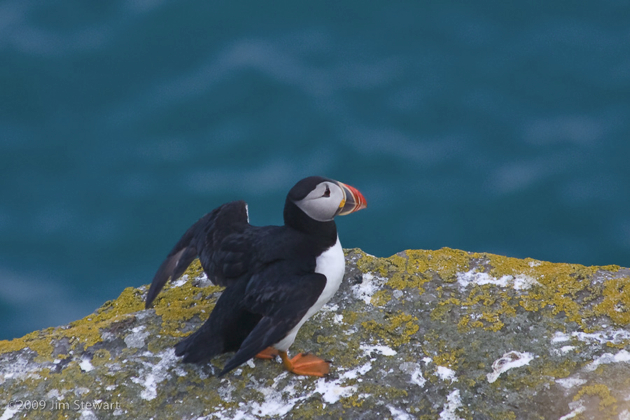 We'll post more - and more diversity - in the next few days. Check back...
between Saturday the 9th and Thursday the 14th of May
we took a trip up round the very north of Scotland - you'll see our route in Multimap form
here
- with overnight stops in Dornoch, Thurso, Tongue and Lochinver, and passing through - inter alia - Wick, John O'Groats, Assynt and Ullapool.
On the way out we stopped at Inverness Airport to pick up
Peter Wareham
who wanted to come along for the ride.
First night we stayed in Dornoch. Most famed in recent times for hosting Madonna's wedding the day before we got married in Morar (we owe her one for distracting the paparazzi from our nuptials). But as well as its cathedral Dornoch has a rather fantastic beach where we watched terns and diving gannetts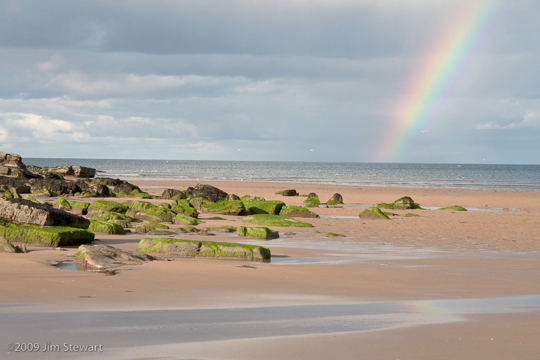 in the long-evening light.
We'll post a full gallery of pics as soon as other things allow - it's off to Yorkshire next weekend, and Ruth's computer screen's gone blank - but for now, here's a shot of John O'Groats (not nearly as crass and commercialised as people tell you)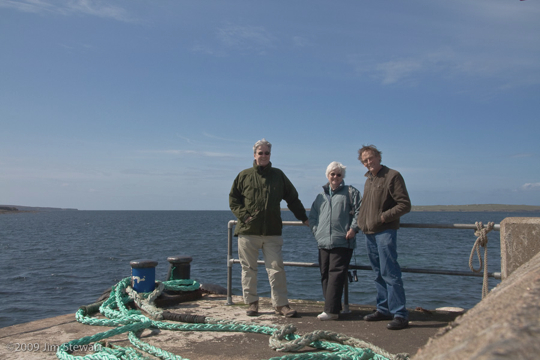 and one of Thurso beach - which according to the Rough Guide doesn't exist!! - but which does, and to prove it hosts surfing championships (BRRR!!!)
Thurso, though, is a nice wee working town, and rightfully qualifies as Scotland's "Best Kept Secret".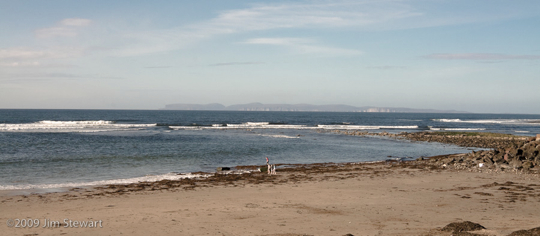 One of the great surprises was Tongue - a genuinely pretty little village in Sutherland, and one with a dramatic setting, beneath Ben Loyal. Here is the view of the Ben from the village at sunset: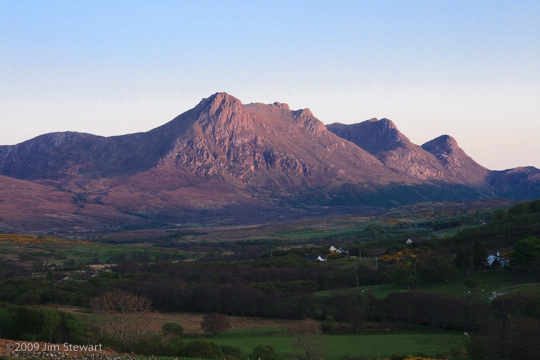 Come back soon for more pics from the far north
!!